News Release – 'Saved by that MIKEY Miracle'
By Kevin Connor, Sun Media
July 10, 2008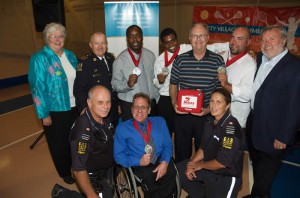 Daniel Terbenche can't help but think how access to a defibrillator could have saved his father's life the way one saved him after a recent cardiac arrest.
The 63-year-old Terbenche was exercising in January at Variety Village in the east end of the city when he suffered the attack. Luckily it was recognized for what it was by staff at the facility. "I don't remember any distress or breathing problems. The need for defibrillators is quite obvious," Terbenche said yesterday at Variety Village. His father suffered a cardiac arrest in 1969 and, with no defibrillators, it took more than six minutes to revive him, a delay that left him brain damaged. He spent the last eight years of his life in a hospital bed. "If you cater to the public and you don't have a defibrillator you are putting people at the same risk as my dad," he said. "I feel great. The difference between having a defibrillator available or not is the difference between me and my father." Lynne Wallace — president of Variety, the children's charity — says she couldn't be more proud of her staff and their response to Terbenche's emergency. 'LIVING PROOF'
"Their training and diligence helped to save Mr. Terbenche's life, but we also owe a debt of gratitude to The Mikey Network for providing Variety Village with defibrillators," Wallace said. The network is a charitable organization boosting public awareness and providing access defibrillators to high-risk places like Variety for a timely response to saving lives before paramedics arrive. "The Mikey Network works because our efforts are guided by ongoing inspiration left by Mike Salem, our Heathwood Homes and Heron group partner and friend who died of sudden cardiac arrest on a golf course," said Hugh Heron, chairman of the Mikey group. "And for living proof that The Mikey Network really works, Daniel Terbenche is here at Variety Village, with the four responders who helped save his life using a Mikey." One of the responders, Shane Risto, says he was honoured to help. "I feel good I was able to receive the training and give some help," said Risto. Toronto's Emergency Medical Services manages more than 500 public-access defibrillators. "The program is picking up because private companies are getting involved," said EMS spokesman Lyla Miller.
Saved by a MIKEY
Our greatest hope at The Mikey Network is that the Mikeys we place never have to be used. Our second-greatest hope is that when the situation arises that someone experiences sudden cardiac arrest in a public place, a Mikey and a trained responder are on hand to offer that person an increased chance of living.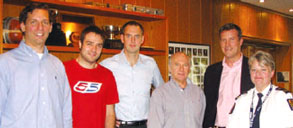 On November 2, 2006, the Toronto Racquet Club was the scene of a Mikey in action. One of the visiting Toronto & District league players, 36-year-old Sam Webster, came off the court at the completion of his match, collapsed and went into sudden cardiac arrest (SCA). Within seconds, CPR was initiated. There was no pulse, so it was decided that a defibrillator was needed. Three weeks before, The Toronto Racquet Club had purchased a Mikey, which was installed just six days before the cardiac arrest.
"I was extremely lucky that things came together so well," Sam says. "I'm amazed that the club had a defibrillator and people onsite who were trained to use it. I feel great, and I'm looking forward to receiving a clean bill of health so hopefully, I can play squash again. I'm living proof that The Mikey Network is helping to save lives."