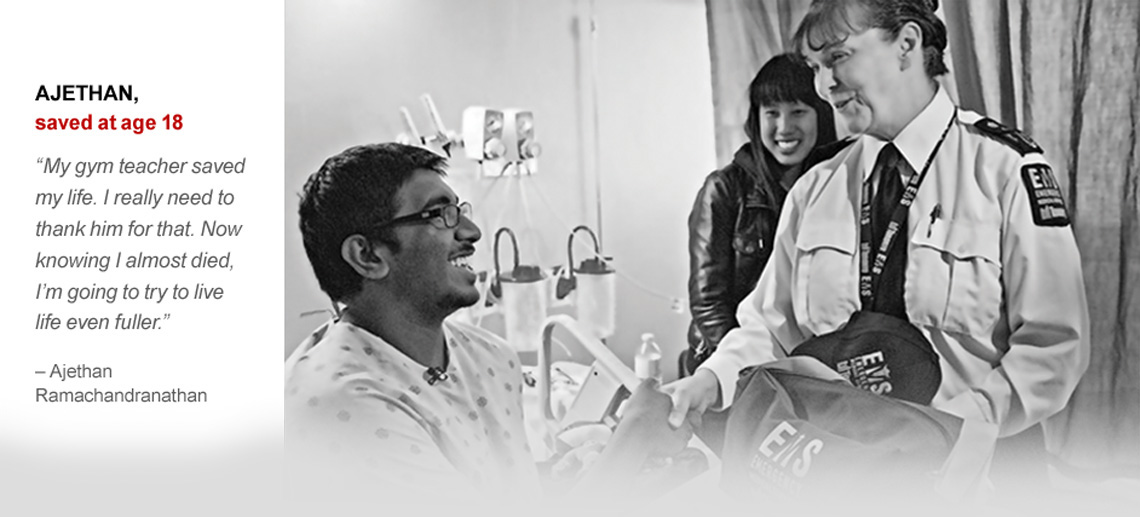 Can there be anything more frightening than seeing a child collapse because of a skipped heartbeat? Thanks to the presence of MIKEYs in schools, several students have been revived.
Harbord Collegiate Institute student Danny Wu was swimming at school when he experienced Sudden Cardiac Arrest. While waiting for paramedics to arrive, Vice-Principal Janice Gladstone used the school's MIKEY defibrillator on Danny successfully. He says, "I'm thankful that this happened in a place that has AEDs … the MIKEY helped to save my life."
Ajethan Ramachandranathan is alive today thanks to the quick-thinking of Weston Collegiate Institute gym teacher Jeff Crewe, who used the school's MIKEY to revive Ajethan. "Now knowing I almost died," Ajethan said, "I'm going to live life even fuller … to try to do things I've never done before. "
The scope of The Mikey Network's impact is remarkable, with the ages of people who are alive today because of a MIKEY defibrillator ranging from two to over 80. They are living proof that having defibrillators in public places works. Installing MIKEYs in schools is a natural step in protecting as many members of the community as possible.
Read about many other MIKEY Saves stories.