The Mikey Network and TWO MEN AND A TRUCK®,
A Partnership For Life.
As part of the Mikey On Board program, all  TWO MEN AND A TRUCK® Canada moving trucks are now equipped with a MIKEY defibrillator.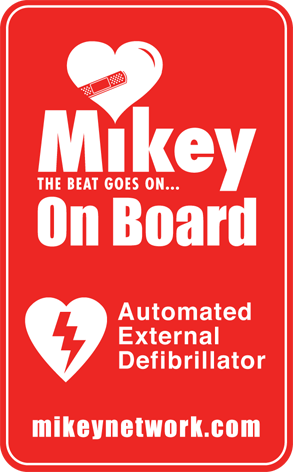 Now, when you see a TWO MEN AND A TRUCK® Canada truck, it doesn't just mean someone is moving in or out of the neighbourhood. It means there's help close by.
Working with Emergency Medical Services, TWO MEN AND A TRUCK® Canadian franchisees, their drivers and staff, have been trained to use a MIKEY.
Sudden Cardiac Arrest (SCA) is the leading killer of Canadians. Over 10 per cent of occurrences happen in public, and victims who are not revived within 3-5 minutes usually die. The use of an AED by a trained 'target responder' within the first moments can improve the victim's survival rate by up to 50 per cent.
"These moving trucks with their EMS-trained personnel circulate throughout their communities every day and by carrying a MIKEY, they carry a second chance at life for people who might be affected by sudden cardiac arrest. This program is a tremendous venture and for TWO MEN AND A TRUCK in Canada, it's an industry first.  We challenge other companies with vehicles on the road to follow suit and install MIKEYs and have their staff trained through EMS."
-Hugh Heron, Mikey Network Chairman
About TWO MEN AND A TRUCK®
TWO MEN AND A TRUCK®, in business for over 25 years, currently operates in the United States, Canada and Ireland with 220 locations and over 1,400 moving trucks.
The company currently has a customer referral rate of 94 per cent with 20 Ontario locations. To find a location near you, visit twomenandatruck.ca.
Your Generous Donations Help Us Place MIKEYs in as many public places as possible.
Please consider donating today.