Two Men and a Truck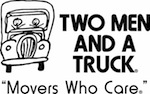 Two Men And A Truck holds franchise opportunities across Canada for a moving company that built its reputation on highly personalized service and an appreciation for the value, monetary and sentimental, of people's belongings. The company
offers consumers an impressive array of moving services that includes packing and unpacking, loading and unloading, as well as supplies, crating and storage.
Two Men and a Truck has committed an annual donation from every move they make to The Mikey Network.
Visit www.twomen.ca.
Canada's 911 Ride

Humans have the amazing capacity to make something good come out of tragedy. In 2006, a tradition was born in Canada that was inspired by the police-escorted charity motorcycle ride held in the U.S. after September 11th. Last fall, the first-ever "Canada's 911 Ride," raised money to create scholarship funds for the families of fallen police officers, firefighters, EMS personnel, victims of violent crimes, AND to support The Mikey Network.
This year's Canada's 911 Ride began at Woodbine Race Track, and took place August 25. We thank the 911 Ride's organizers for including us in the list of recipients who have benefited from their efforts. Learn more at www.canadas911ride.com.
Toronto Academy of Dentistry & Heaven Can Wait
Through this initiative, Toronto Academy of Dentistry (TAD) members will be able to purchase a high quality Automated External Defibrillator (Philips HeartStart OnSite Defibrillator) and an accessory package from Heaven Can Wait (HCW) at considerable savings from similarly promoted units.  What is more, a portion of each sale will be donated to The Mikey Network.  The funds raised will be used to place AED's in public places, along with a plaque acknowledging the contribution of the dentists of Toronto.
For more information visit www.tordent.com  and  www.heavancanwait.biz