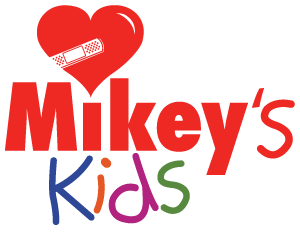 A lifeline for seriously ill children.
Can there be anything more terrifying than seeing a child collapse suddenly and stop breathing? And can you imagine the frustration of feeling helpless in such an emergency?
Sudden Cardiac Arrest (SCA) can strike at any age, and it is especially tragic when the victim is a child. When SCA occurs, the first few minutes are absolutely critical; if the child's heartbeat is not restored quickly, the consequences are brain damage or death. By the time paramedics arrive, it's usually too late – and every parent's nightmare becomes a reality.
That's why we at The Mikey Network established the "Mikey's Kids" program. Families whose children are at high risk of SCA are provided with a MIKEY, a portable automated external defibrillator (AED), to carry with them at all times so their kids are protected at home, school or play.
If the need arises, parents can act in those first crucial moments. The sense of security this program offers high-risk patients, their families and their medical teams is priceless, knowing that should the child's heart skip a beat, the MIKEY can provide a second chance at life. Having the MIKEY close at hand transforms helplessness to empowerment and replaces fear with hope. Through the Mikey's Kids program, parents and their at-risk kids can breathe easier, wherever they are, and focus on enjoying life – and isn't that what having children is all about?
It takes a community to help a child with heart problems…
Please help us place a MIKEY in the home of every family in need
"The Mikey's Kids Program ensures that families whose children have life-threatening heart conditions, have access to life-saving AED technology. The availability of an AED for these high-risk patients gives the families (and their medical team here at SickKids) wonderful piece of mind." - Dr. Joel Kirsh of SickKids Hospital – one of The Mikey Network's critical partners.
Mikey's Kids Program Helps Families
Here are some of their stories: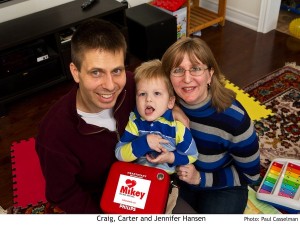 Craig and Jennifer Hansen used their MIKEY to give their 2-year old son Carter, a second chance at life.
"In May 2012, our 2-year-old son Carter went into arrhythmia and then cardiac arrest due to a previously undiagnosed benign heart tumor. The paramedics got a rhythm back after 27 minutes, but the resulting significant brain injury kept us at SickKids and Holland Bloorview Children's Rehab Hospital for 6 months, and we're still fighting to regain as much of our son's coordination, vision and speech as we can.
We went home a month ago with an AED from The Mikey Network, knowing that any further arrest would be incredibly critical. Neurologists told us that by the time EMS arrived, it would be too late. Our only chance was the defibrillator.
Carter went into arrhythmia again on Tuesday (Dec. 4/12) morning. We started CPR immediately. Because of the training supplied by The Mikey Network, we had his shirt off and the pads on him well ahead of the voice prompts from the AED, which analyzed and advised a shock, which we delivered. The change in our son was immediate.
He started breathing on his own again. We observed him and kept the AED on him until EMS arrived.
You guys gave us another chance with our son. Thank you, thank you, thank you."
Portable Reassurance for the Hobbs Family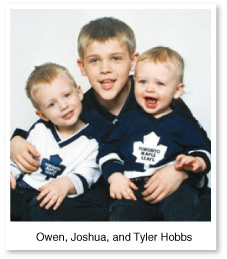 Having one child with a heart condition is stressful, but Laurie Hobbs is raising three young children who are at risk of developing the same heart-related diseases their father died of at age 31- Hypertrophic Cardiomyopathy and Long QT Syndrome.
Knowing that at any time, Joshua, Owen and Tyler might experience cardiac arrest, Laurie is on constant alert for anything that might cause an adrenaline release and possibly trigger the condition. We donated two MIKEYs to Laurie to help her and her family.
"It's a difficult diagnosis for parents to deal with," Laurie says. "My husband was never diagnosed with these conditions, which is why he passed away. I had a difficult time coping until we received the MIKEYS, which have made a huge difference in all our lives."
Thanks to the MIKEYS, Laurie is able to take the children to their cottage, where she says they have wonderful memories of their dad. "The MIKEY is easy to carry," she adds. "I take it everywhere, even to WalMart. I feel like I'm a better mother with the defibrillator so handy." Laurie and most of her family members have been trained in how to use the MIKEYS. "What a coincidence that my husband's name was also Mike," she says. "Helping to save lives is a wonderful way to honour Mike Salem's memory."
What having a MIKEY means to Jone Wright, David and Kyle Hunter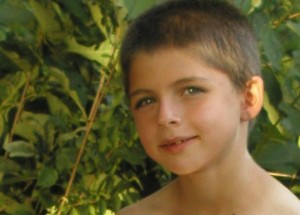 Dear Mikey Network,
There are times in everyone's lives when words just aren't big enough to express what we would like to say.  This is one of those times for us.  There simply are not enough words in order to be able to properly thank you for having donated an AED to our family.
I can't begin to tell you what we felt when we were told that Kyle, our 9 year old son, has Long QT or sudden death syndrome.  We knew that his collapsing and fainting wasn't normal, however, it never prepared us for the possibilty of Long QT. It was if the bottom of our world fell out and we were left stranded. To be told that our only child could collapse and die at any given moment without warning is overwhelming.  To be unable to prevent it is even worse.
However, thanks to you and your organization's donation of the AED, we now have the one tool that will enable us to save our son's life when he collapses again.  Without the AED, I don't know where or what we would be doing.  It helps us get back to a more normal life, knowing that we have a chance to save our son in the event that his heart stops again.
The gift that you have given our family is the gift of our son's life and for that we have really no appropriate words that will express to you just how thankful we are.   Thank you for helping us in such a difficult time.
Should there be anything that we could do to pay this gift forward, please don't hesitate to ask.  It would be our pleasure to offer any assistance possible.
Yours truly, 
Jone Wright, David and Kyle Hunter
It takes a community to help a child with heart problems…
Please help us place a MIKEY in the home of every family in need