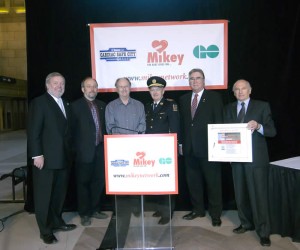 GO Transit, in partnership with The Mikey Network and the Toronto EMS Cardiac Safe City program, is installing public-access defibrillators, called MIKEYs, on GO Trains and at stations.  About 100 MIKEY defibrillators will be available across GO Transit's extensive network.
"GO Transit carries thousands of passengers each day, and having easy-to-use defibrillators is another way GO is putting the safety of its passengers first," said GO Transit Chairman Peter Smith. "We're thrilled to partner with The Mikey Network and Toronto EMS to install these portable, life-saving devices that we hope won't have to be put to the test too often."
MIKEYs are being installed on the accessible car of every GO Train, as well as at GO stations along the Lakeshore line, at the end stations on each of GO's other six lines, at Union Station, and at all layover facilities. GO is the first transit system in the GTA to equip its vehicles and facilities with MIKEY defibrillators.
"This announcement will increase the chances of survival and recovery for those who suffer from cardiac arrest," said Minister of Health Promotion Margarett Best. "I congratulate GO Transit, Toronto EMS, and The Mikey Network for their partnership in helping Ontarians practice healthy, active living."
"Today we're taking the Network on a different track, with the installation of 100 MIKEYs in GO Transit facilities and on the trains. We're excited about reaching out to so many GO travelers – more than 200,000 on a typical weekday – plus the staff who will also have access to the units. This is a huge expansion of the Network's influence, and will raise awareness for our organization in a big way," said Mikey Network Chairman Hugh Heron.    "Mikey on the GO is a great name and a fantastic opportunity for The Mikey Network. We have two major goals – to place MIKEYs in as many public places as possible, and to educate the public about heart-healthy living, in the hope that the units won't have to be used," Heron added.
A MIKEY is a public-access defibrillator – an electronic device that delivers an electronic shock to the heart through the chest wall in order to restore the heart to its normal rhythm. The shock from a MIKEY can increase asudden cardiac arrest victim's chance of survival if it is used within thefirst critical moments following the incident, even before paramedics and emergency personnel arrive.    As part of GO's standard safety procedures and to ensure the well beingof its customers, all frontline staff are trained in CPR and first aid. With the installation of the MIKEYs, all GO personnel on board GO Trains and at train stations with a MIKEY unit have been trained by Toronto EMS on how to use the defibrillator device.
https://i0.wp.com/mikeynetwork.com/wp-content/uploads/2011/04/Mikey-network-defibrillator.jpeg?fit=700%2C585&ssl=1
585
700
The Mikey Network
https://mikeynetwork.com/wp-content/uploads/2021/11/mikey-logo.jpg
The Mikey Network
2008-10-29 20:54:08
2013-06-05 13:45:32
Mikey on the GO